A modo de petit lanzamiento del nuevo dominio y hosting del blog (con gran apoyo moral y técnico de Michel) hoy toca entrevistar a Dorothy Gambrell, asi como quien no quiere la cosa. Abajo de este post, una versión enteramente en inglés. Para tener, nomas.
A modo de introducción histórica: allá por 2002 en un foro / newsletter de difusión y discusión en torno a música y cultura punk un participante envió como único comentario esta viñeta. Girl's in a cafeteria fight fue la primer tira que conocí de Cat and Girl, un proyecto artístico bastante particular que Dorothy Gambrell lleva adelante ininterrumpidamente desde 1999, hace ya bastante más que diez años. En todo este tiempo la tira cómica ha mutado pero manteniéndose fiel a si misma, personajes secundarios han dado pie a nuevas series (como The New Adventures of Death) y Dorothy también se ha embarcado en otros proyectos, como dibujar una tira sobre Chejov para un libro de ensayos sobre el autor, lanzar un par de blogs bastante particulares, y tocar la guitarra en un puñado de bandas siempre a punto de entrar en el under.
Como eje de las historias tenemos a Cat, un gato antropomórfico bastante inescrupuloso, irreflexivo e impulsivo que disfruta de comer pintura rica en plomo y salir de fiesta; y a Girl, una chica (a esta altura de edad indeterminada) que tiene entre sus actividades principales ejercer una crítica casi feroz sobre los temas mas variados. Entre los personajes secundarios tenemos a Grrrl, una chica con espíritu punk norteamericano noventoso (una Riot Grrrl); Boy, un chico particularmente inseguro y bastante poco cool (al menos exteriormente), y a un Vampiro Beatnik, que es simplemente maravilloso y que curiosamente en los últimos años de la tira se reconvierte (deja sus gafas oscuras y consigue un trabajo, por ejemplo).
La tira no está para nada exenta de humor, y si bien tiene entre sus temas comunes la sociedad de consumo y el capitalismo en general, Cat and Girl se destaca por un humor extremadamente fino y casi cínico en torno a, sin ir mas lejos, la cultura de masas. A modo de ejemplo ver I hear a symphony, Cat and Girl wait for New Wave's big comeback, The trap, Followed (los últimos dos sobre redes sociales) entre muchos otros. Como nota, vale tener en cuenta que Cat and Girl también trata de "humor convencional" y que mi selección de tiras para este post es levemente sesgada. Vale la pena saber también que existe la posibilidad de armar tu propio Cat and Girl.
En paralelo y como una de las cosas que la hace interesante, la tira se permite muy libremente jugar y bromear con referencias al mundo del arte y la "alta cultura" (en este rubro, chistes en  general a cargo de Cat). Ver por ejemplo Cat puts things in his pipe and smokes them (con otra referencia a Magritte), o aqui, aqui y aqui y especialmente aqui. La tira es de las pocas cosas provenientes de norteamérica que he visto que hace humor en base a menciones inteligentes de comunismo, proletariado y clases sociales en general (aqui, aqui, aqui, aqui y aqui, por ejemplo), o ideologia e incluso situacionismo.
Pero además la serie se permite hacer humor en base a si misma, en cuanto resulta crítica contra el mismo conglomerado de intelectualoides / hipsters / bohemios que conforman sus personajes (y probablemente sus lectores). En el pasado y crecientemente en el presente Cat and Girl parecen ser críticos también con el intelectualismo con aire de superioridad, como se ve aqui, aqui, aqui, aqui, aqui y aqui. Cat and Girl tienen también un ramal fuerte existencialista, en la que los personajes cuestionan (a otros, al lector, y a si mismos), bastante crudamente el significado de la existencia, la construccion del ser, la creacion artística (tambien  aqui y aqui), la comunicación, y la muerte. Este último item está interesantemente capturado en tres tiras a traves de la pregunta de Girl "so how do you stay warm in the cold shadow of death?" (ver respuestas, en orden, de Grrrl, el Vampiro Beatnik, y de Cat, que claramente la rompe).
En cuanto a aspectos estéticos el estilo ha cambiado con el tiempo; ahora los personajes son mas estilizados y cuidados si se quiere. Sin embargo y en forma muy interesante por unos meses en torno a Octubre de 2011 y coincidiendo con una mudanza Dorothy se la jugó y pasó a presentar la tira  incorporada a la vida real si se quiere (ver aqui y aqui por la mudanza, o aqui y aqui por tiras mas extrañas). En cuanto a aspectos no estéticos, Dorothy vive de su arte en base a una ética de trabajo quizás un tanto curiosa: no solamente vende originales de sus tiras y merchandising en general (incluyendo tres tomos compilando estos años de Cat and Girl),  sino que también hace unos cuatro o cinco años implementó el Donation Derby. Promocionado y descrito por la autora como Support my lavish lifestyle! Donate $5 or more and I'll draw you a picture of how I spend it. Include your address and I'll mail it to you, consiste en lo dicho: via su website Dorothy acepta donaciones por PayPal pero se compromente a dibujar una pequeña caricatura ilustrando el uso que da a ese dinero (en general mencionando el monto y nombre del donante). Con lo cual en los hechos uno podría pensar que Dorothy vive un tanto en base a representaciones de su propia vida (cotidiana); en el pasado ese dinero ha habilitado un buen recorrido en auto por algunas zonas de norteamérica.
Además en 2012 Dorothy lanzó también su
Fun Club,
descrita por la autora como 
a year-long subscription to odd things in the mail, 
consiste también en precisamente eso: uno se anota y mes a mes recibe cosas extrañas / particulares a su nombre por correo. No tengo noticias de otros autores / artistas con tan particular forma de convertir seguidores en pequeños mecenas. Otros proyectos paraleleos incluyen incursiones en la música via varias bandas (una de ellas la difunta Jenny and the Holzers), en la fotografía a través de un
flickr
, 
colaboraciones esporádicas
en otros blogs, webcomics, periódicos o publicaciones, y el blog
Very Small Array
, que podría decirse se centra en el procesamientos de datos bastante desconcertantes. Por ejemplo mas abajo vemos la ocupación de los principales personajes de las películas de 2011, cruzada con la edad el actor/actriz y su género. Los hombres veteranos hacen de piratas por ejemplo, y pareciera que pacientes, autores y científicos son principalmente mujeres. Interesante.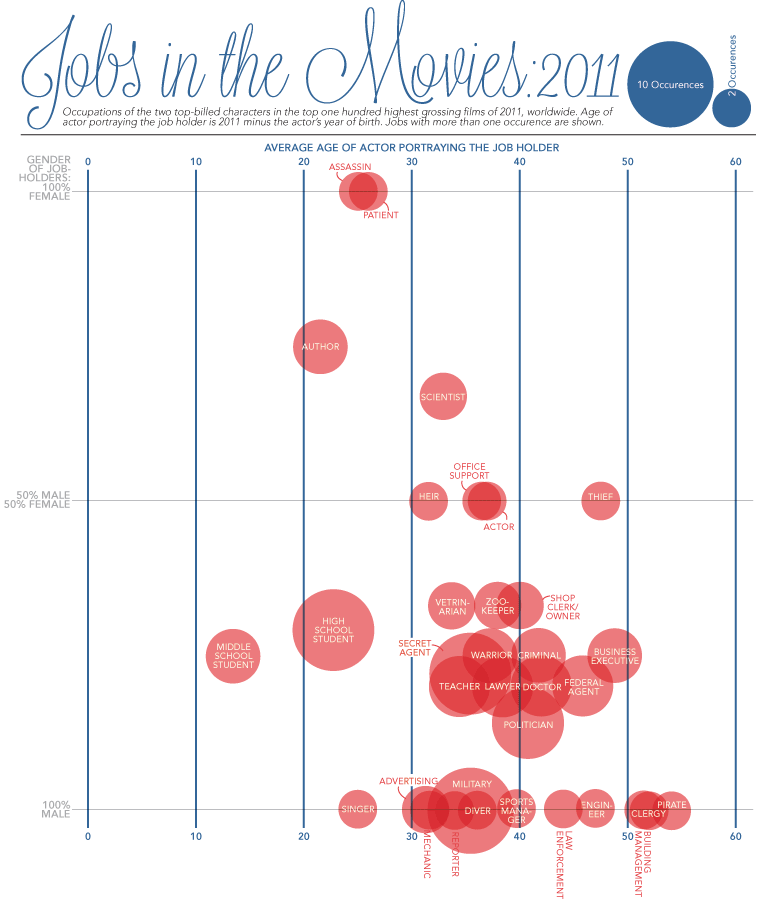 Vale destacar que hace unos años Dorothy comenzó también a compartir públicamente con su audiencia sus finanzas personales, vale decir, cuanto dinero hace año a año (desagregado según fuente). Bastante información a nivel público para una persona que no tiene (o no parece tener) Facebook o Twitter. Sobre si misma tenemos hoy en día poco más de lo que figura desde hace más de diez años en su web: Dorothy Gambrell was born in Illinois, and educated at Illinois College and Union College of Law. She was a member of the U.S. House of Representatives from 1891 to 1895, during which time she became the leader of the free silver movement. Her later years were devoted to the advocacy of fundamentalism, most notably as a prosecutor during the Scopes monkey trial. 
Dorothy misma ha aparecido mas de una vez en Cat and Girl, algunas veces para dejar en claro que autor y personaje no son la misma cosa (aqui y aqui por ejemplo) y muy interesante en 2000 (en Cat and girl feign interest) para quejarse un poco sobre el rumbo de su vida y en 2009 (en Cat and Girl follow up) en para concluir que su elección de carrera/vida fue simplemente una locura. Con miras a saber algo mas de esta artista tan añeja y versátil Dorothy amablemente accedió a responder un puñado de preguntas (de una lista particularmente larga y tediosa que le fue enviada).
1) You started C&G, at least online, in 1999. Eversince your online bio has stayed the same; so I might ask: how did it felt to be a member of the House of Representatives? Also, is there anything valuable you learned from your experience as a prosecutor?
I'm flat-out terrified to see the idea of a Gold Standard revived. And it's still hard to get Americans to accept evolution! We really wasted the 19th century.
2) You have drawn C&G for more than ten years now. Though in Cat and Girl follow up you stated this decision meant going with 'crazy', how do you feel about C&G now, in comparison with how you felt at the beggining?
 Ten years ago Cat and Girl was a hobby, done when I had the time, but it was also the only creative outlet I had. Naturally as you get older "I MUST express these IDEAS and FEELINGS" settles into "I want to make something GOOD." And now making Cat and Girl is a central activity that I schedule other things around, but also one of many creative projects I'm working on in any one week.
3) Readers have seen many changes in the comic strip in time. Do you think your past strips hold the test of time, that is, are still actual or meaningful? Do you draw current stripes taking this into account?
There's no point in drawing for a future audience - we as humanity are remarkably bad at predicting things, and guessing what will still be relevant in the future is a losing game.
4) Characters have changed quite a bit also. What happened to the Vampire Beatnik? He kind of "sold out" to a certain extent! Do you relate this to to changes regarding the popularity of 'hipster culture', so to say?
He's the only character who tries to keep up with the present! Which is a definite act of faith.
5) It also seems that you use secondary characters a bit less frequently; what have been Boy and Grrrl been doing lately?
Grrrl is learning to screenprint and Boy is breaking down acts of grand self-reinvention into to-do lists. He will get three items in before leaving the list on a bus.
6) How do you manage to keep finding ideas, fresh ideas, for the comic strip?
Well nuts! Our lives change. You can walk by the same building every day for a decade but how you see that building will change. There are always new ideas. Every morning we walk out into a new and different world.
7) How do you deal with feedback from your followers/fans? How has your fanbase reacted to changes across more than ten years of comic strips?
It is a mark of what a small fish I am that almost everyone I speak and write to has been extremely kind and supportive.
8) How did you come up with the idea of the Donation Derby? Why do you publish the amount of money you make, what made you make this decision?
 In 2002 the Paypal donation button started popping up on peoples' websites. I like free money just as much as anyone else, but I didn't feel comfortable taking money without giving anything back. And how I was spending my money, especially then - I wanted people to know their donations weren't going to scallops and Faberge eggs. By drawing how the money was spent and mailing that drawing to the donor I hoped to create an exchange out of a one way street.
Some people buy comic merchandise because they want the book or the shirt, but more and more people make a purchase to "support" the creator in what they do. So, like Donation Derby, making my finances public was an attempt at transparency. I want anyone who donates money to know what I spent the money on, and I want anyone who buys a t-shirt to know how much that means to my monthly finances. 
9) In previous interviews (here, here, and here) you have stated some concern about the fact that you end up recording figments of your life and social interactions that is mediated by money. Why are you concerned about this?
Let's say a great Saturday night is going to a house party. Mister Chen buys a six-pack before I meet up with him. We talk to people about religious pilgrimages in Spain, half-agree to be in a Bangles cover band, and six hours later we arrive home with a jug of apple cider, two decorative pumpkins and a pineapple. I haven't spent any money! And I only draw Donation Derby strips when I've spent money. So this party fades away. But that one time I met up with someone, paid $10 for two beers and we talked about something boring for 40 minutes - that's something I'll always remember. Not because it's public, but because I've taken another 40 minutes to draw it.
10) Do you have social comment as a goal when doing 'Very Small Array' as well? Or what is it that catches your attention?
A nice thing about charting information is that, even if you have an agenda going into it, that agenda is often shaken, twisted, or just plain disproven by the time the chart is completed. 
 11) Do you draw having a prototypical reader in mind? Atlernatively, what do you think a typical reader/follower of C&G and your other work is/thinks/expects/looks like?
When I imagine someone who's reading Cat and Girl, I imagine someone with about the age and gender and background of... me. I expect that people reading Cat and Girl imagine I have about the age and gender and background they do.
 12) Do you think C&G has any sort of impact on the people following it? on their believes, thoughts and behaviour?
I was sitting at a comics show once and someone walking by yelled "I tried to read your comic, but it was too sad!" 
13) What's your view on the current state of northamerican society? (reading the news from here looks like the political debates resembles much more a culture war that anything else!)
We're always heading for a new apocalypse. It's never different and it's always new.
14) How's Fun Club doing? Where did you get this idea, and how have people  been reacting to the packages they have been receiving? Do you plan to continue it next year?
When you make things for the internet you can't help but be aware of the potential audience. Anything put online can explode in popularity, even if few things ever do. And whether you want that popularity or not - even when you're just talking to friends about nothing of interest to anyone else - that potential audience is there, lurking at the back of your interactions. I began to feel like it was a poison, that everything I put online was, at some level, begging for that larger audience just because it was online. And if that's what I was doing, I wasn't even any good at it!
Rather than working in a medium with that distant constant possibility of BIG, I wanted to start something that was purposefully, stubbornly SMALL. So I started Fun Club, where - this past year - 150 people have been mailed a new, physical object thing every month. Some of these would be possible to put online, but they're not. They're in the hands of 150 people who got them through the mail. And that's it.
Fun Club 2013 opens up for membership November 1.
15) How's the band going, by the way?
Still, always terrible! Such are the pains of the dabbler.
 15) / 16) Do you feel influenced by any writer, filmmaker, musician or artist? Have you read any book or listened to any record that you would like to recommend, lately? / C&G are, in their sayings and their attitudes, quite radical, noncomformist characters. You have stated in other interviews that, for instance, you are not Girl. Have you ever drawn a comic strip that you disagree with, or with views that you particularly oppose?
I don't hold a lot of ideas to be true but often think about dialogues I believe to be important. Any dialogue is between two poles of certainty -  I agree with the uncertainty strung between them.
17) And finally, do you have any plans for next years? (say, you and C&G) Moving again? changing update days? anything we should know?
 I'm planning on eating lunch later today. That's as far as I've gotten.
Thanks Dorothy!